Looking for a reliable solution to enhance the appearance of your glass surfaces? Look no further than our UV adhesive for glass. This adhesive is specifically designed to provide a strong, permanent bond between glass surfaces, making it ideal for a range of applications.
Our UV adhesive for glass is easy to use and requires minimal preparation. Simply apply the adhesive to the surface of your glass and use a UV light to cure it. The result is a clear, durable bond that is both heat and water-resistant.
In addition to its bonding capabilities, our UV adhesive for glass is also an excellent enhancer for glass surfaces. Its transparent nature allows it to blend seamlessly with the glass, providing a smooth, glossy finish that is sure to impress.
Whether you're looking to enhance the look of your glass doors, windows, or other glass surfaces, our UV adhesive for glass is the perfect solution. So why wait? Enhance your glass surfaces today with our top-of-the-line UV adhesive for glass.
| Heading | Description |
| --- | --- |
| Product Type | One pack adhesive |
| Applications | Sticking glass to glass, glass to metal, and edge to surface of glass |
| Grades | Different grades available for specific applications |
| Curing Method | UV light required for curing |
| Clean Up | Excess glue is easy to clean |
| Colour | Transparent colour glue available |
| Consistency | Thick gel also available |
| Packaging | Bulk packing available for sticking glass to glass and glass to paper |
Frosted Effect Coating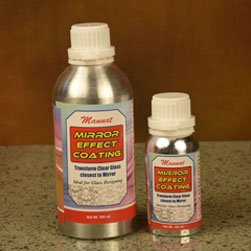 Mirror Effect Coating
Back Paint System