With its advanced formula, No Stain Paint is designed to adhere to glass surfaces without peeling or chipping, ensuring a long-lasting finish that looks great for years to come. Unlike traditional paints that can flake off or fade over time, No Stain Paint is specially formulated to withstand the elements, making it ideal for outdoor use as well as indoor applications.
One of the standout features of No Stain Paint is its ability to resist stains and streaks, which can be a common issue when painting glass surfaces. This means that your finished product will maintain its pristine look even after repeated use, making it a must-have for anyone looking to enhance the appearance of their glassware.
Available in a range of colors and finishes, No Stain Paint is versatile enough to use on a variety of glass surfaces, including windows, mirrors, vases, and more. Plus, with its easy-to-use applicator, you can achieve a professional-looking finish with minimal effort.
Overall, if you're looking for a high-quality glass enhancer that will give your surfaces a sleek, durable, and stain-resistant finish, look no further than No Stain Paint. Order yours today and experience the difference for yourself!
| Heading | Description |
| --- | --- |
| Product Name | NO STAIN coating |
| Pack size | 2 pack |
| Coating Type | Frosting effect |
| Glass types suitable for | Clear glass |
| Common issues solved | Oil stain and fingerprint marks on acid frosted or sandblasted glass |
| Oil resistance | Prevents oil from sticking to the coating |
| Cleaning | Can be cleaned with a damp cloth |
| Time for first trial | 24 hours after coating |
| Customization | Different colors can be achieved by adding a few drops of special tinter to the coating |
Frosted Effect Coating
UV Adhesive For Glass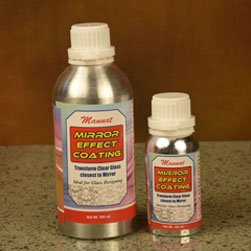 Mirror Effect Coating
Granite Effect
Bake Paint System